PlanAdapt at CBA14: Learning from Local Solutions that Inspire Global Change

Challenges linked to climate change are complex and context-specific, and solutions cannot be developed quickly. Often the role of communities' collective power and the need for bottom-up adaptation responses feeding into national plans is overlooked and underestimated.
The 14th International Conference on Community-based Adaptation to Climate Change (CBA14) aimed to highlight how local communities must lead action to tackle the world's multiple interconnected challenges. The core thematic focus areas of the CBA14 were Adaptation Technology, Youth Involvement, Nature-Based Solutions and Responsive Policy.
PlanAdapt's Sumetee Pahwa Gajjar and Jesse DeMaria-Kinney participated in this year's truly participatory, virtual global CBA event along with 500-plus participants from over 70 countries.
Expanding the Purview of Urban EbA Work
With the aim to share and learn about nature-based solutions and ecosystem-based adaptation along the urban-rural continuum, involving local communities, youth and diverse knowledge, PlanAdapt's Sumetee Pahwa Gajjar and Jesse DeMaria-Kinney created an Urban NbS / EbA group on the CBA14 virtual platform: Whova. The Whova app enabled access to the formal agenda, official notifications as well as multiple, interactive informal side discussions. The group intended to understand those solutions which were applicable across rural and urban contexts, and may have benefited from particular strengths or opportunities, when located in particular areas.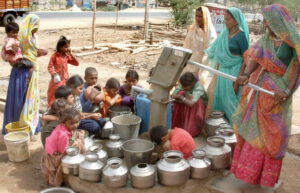 Several of the locally-led adaptation actions being showcased also contributed to the growing knowledge base being gathered by Urban EbA survey developed by The Friends of Ecosystem-based Adaptation (FEBA) Urban EbA Working Group (WG), co-chaired by IUCN and PlanAdapt. With knowledge services at the core of PlanAdapt, there was a clear intention of embracing and better understanding the unique interactions and overlaps between informal and formal, academic and practical, scholarly and entrepreneurial types of knowledge on climate adaptation, located in different contexts, including the urban, rural and in-between.
The Focus of CBA14 and the Urban-Rural Continuum
Urban areas featured in sessions that highlighted the need to amplify community-led social movements in cities that have been able to make positive changes on the ground, by developing communal networks. The preparedness of urban youth in leading climate adaptation and the role of women leaders in shaping policies at the interface of water-related and climate change issues were shared. In a session hosted by the Global Resilience Partnership, led by ICCCAD (the International Centre for Climate Change and Development), CDKN (the Climate and Development Knowledge Network) and SDI (Slum Dwellers' International), it was noted that communities are co-creating solutions and are very specific in what they need from donors. Governments, donors and NGOs need to support existing leadership among communities, and the voices of local leaders need to be brought to the fore. Stories emerging from the front-line, especially in response to the COVID epidemic, are being captured as a series on the ICCCAD and CDKN websites.
A skill share session on Disruptive Resilience, organised by IIED (International Institute for Environment and Development), was particularly provocative, offering a post-COVID-19 agenda for the new normal, in cities of the Global South. A disruptive model embraces informality, partnership with the informal sector and inductive decision-making. Utilising the learnings from the COVID-19 epidemic, civil society responses and the opportunities that have arisen despite the unique challenges, it is pertinent to take local adaptation solutions from around the world, to scale. This sentiment was reflected several times during thematic sessions, and across multiple community-board discussions.
Key Insights about the Urban-Rural Continuum at the CBA14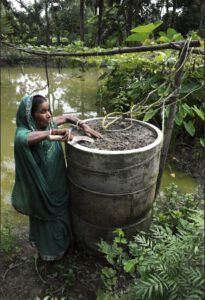 Urban communities often use their resources to reduce their vulnerability. In Cape Town, urban farming in informal settlements has been immensely useful during lockdown, and urban NGOs and CSOs have boosted and supported such efforts, replicating them where possible. The risk is that with economies normalizing amidst COVID-19 fatigue, the momentum may be lost.
Unfortunately, since urban informal settlements are often viewed as temporary settlements, they also find it hard to attract funds, towards initiatives which should ideally be sustained, beyond COVID-induced economic slowdown, to address job losses and existing gaps in service delivery. In light of the interconnected challenges of climate change, biodiversity loss and socio-economic inequality, creating and funding structured networks with knowledge partners and local governments may provide a form of continuity in a highly dynamic urban context.
It was clear that the Urban Agenda needs to reflect the meaningful and dynamic role that youth leaders are able to perform, within communities, setting up businesses to tackle climate change or environmental problems, and generating green jobs.
Natural resources are degraded across the urban-rural continuum and the knowledge held among non-urban people is of immense value to urban farming, as a form of NBS. Furthermore, deep knowledge in sectors like mangrove restoration and rehabilitation, held among predominantly non-urban communities, can enable the regeneration of coastal urban areas, particularly in cities of the Global South, which are often less transformed from their natural state than cities of the Global North.
Climate justice issues are automatically incorporated in urban adaptation efforts, when learning is applied from across rural to urban contexts, and vice versa, through solutions developed by local people (who can be youth or women).
Clear Linkages between Locally-Led Adaptation and Urban EbA
Key take-away from the CBA14 was that numerous Urban EbA solutions can be found along the Urban-Rural Continuum, and can be applied across both contexts. The cases shared were often developed by youth or women leaders, in response to local challenges. Some of the locally-led adaptations that apply across urban and rural locations are urban farming, vertical gardening, restoration of water bodies, water and sanitation-related solutions, urban forestry, mangrove restoration and nature custodianship, for groundwater recharge and biodiversity conservation.
Several of these are captured in an ongoing Urban EbA survey, developed by the FEBA Urban EbA Working Group. The Working Group will develop a joint technical paper based on the case studies submitted. Ultimately, the knowledge generated will contribute to the planning and implementation of just, nature-based adaptation responses in the Global South. If you have an Urban EbA experience to share, please do complete the survey. Or to learn more join the World Cities Day Webinar – Ecosystem-based Adaptation in Cities: People, Nature & Justice – Practical examples from the Global South.
The convergence of "locally-led adaptation and Urban EbA" is a knowledge domain that holds great potential in fore-fronting positive narratives of sustainable and just solutions, for a post-COVID-society, especially in the Global South.
Find a summary of the key messages from CBA14 here: 'Local must lead action to tackle world's multiple interconnected challenges'.