Join the World Cities Day Webinar – Ecosystem-based Adaptation in Cities: People, Nature & Justice – Practical examples from the Global South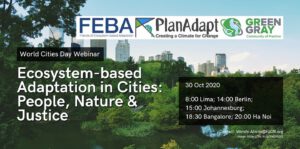 Friends of Ecosystem-based Adaptation (FEBA), PlanAdapt and the Green-Grey Infrastructure Community of Practice will mark the World Cities Day by hosting a webinar about EbA in Cities, in particular practical examples from the Global South.
Join the webinar to explore EbA as an approach to climate adaptation in urban contexts by sharing case studies from FEBA's Urban EbA working group. Ecosystem services (supporting, provisioning, regulating and cultural) are central to human existence, yet they are increasingly threatened by human actions in the water, on the ground and in the air. Climate change now increases the pressures on these cornerstones of life, especially in densely populated human settlements where the natural environment is non-existent or highly degraded: cities. So how can we protect, restore and fund nature in cities while responding to the negative impacts of climate change?
Urban Ecosystem-based Adaptation (EbA) is a fundamental step in the right direction.
Protecting and restoring biodiversity and ecosystems in urban contexts, whilst altruistic in itself, is also a critical part of sustainable development and can, and must, play a central role in climate change adaptation strategies and plans. With over 54 percent of the world's population living in urban areas and expected to increase to 66 per cent by 2050, adaptation in urban areas must be a top societal priority.
Date: 30 October 2020 | World Cities Day
Time: 08:00 PET (Lima, Peru); 09:00 EDT (Washington, D.C., USA); 14:00 CET (Berlin, Germany); 15:00 CAT (Johannesburg, South Africa); 16:00 EAT (Nairobi, Kenya); 18:30 IST (Bangalore, India); BST 19:00 (Dhaka, Bangladesh; 20:00 ICT (Ha Noi, Viet Nam)
Duration: 90 minutes
Coordinating Partners: FEBA, PlanAdapt , Green-Grey Infrastructure Community of Practice
Check back soon for more information on speakers and presenters!
Please register here!
Do you have your own Urban EbA experience to share? Please complete the FEBA survey here.