We are constantly looking for creative, passionate and entrepreneurial colleagues to join us!
---
Here are a few facts that may encourage you to join us: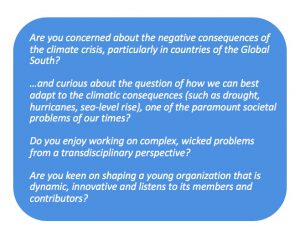 We are a decentralized organization. So, no need to move to another part of the world.
We try to keep structure, bureaucracy and processes lean so that there is enough time for creativity and learning. We try, for instance, to integrate principles of holocracy into our decision-making and workflow processes, and to not get bogged down by an overload of emails, unnecessary meetings etc.
We are open and flexible to accommodate your professional ambitions besides your work with PlanAdapt as well as your personal situation.
We work as a network of like-minded professionals, interested in growing together and learning from each other. For example, more experienced, older team members provide mentorship to younger colleagues.
So, if you are keen on joining us, please contact one of our members or our coordination hub in Berlin, Germany: info (at) plan-adapt.org