Building and Running an Organisation the 21st Century Way
The organizational model of PlanAdapt can be described as an analogy to an atom model. It is primarily driven by two ideas: (1) self-determination and (2) a human-first approach. That means that the ambitions, needs, and aspirations of each individual prevail and that they are put in the center. In too many organisational settings, ambitions or interests of a few (i.e. owners or top managers) to 'use' others to generate revenue and exercise power have been the rule. We want each individual to thrive and live up to his or her full potential. This is why we have crafted PlanAdapt's structure, processes and culture in a different way.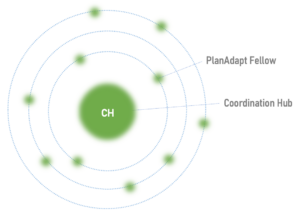 We recognize the nature of human psychology, by offering a space in which everyone can self-determine the combination of purposes ('earn, learn and grow') in view of his or her (professional) life. And further, nurture the need to care about the problems that one tries to solve professionally. That is also why we care about the motivations and values that everyone brings to PlanAdapt.
The atom model shows how the vicinity to the 'nucleus' determines and expresses the (a) ability to shape and decide; (b) the expectation and opportunity to earn and (c) the frequency of collaboration. While individuals in the coordination hub lay the groundwork to shape the organisation (covering administration, management, legal, finance, HR etc.), everyone else self-determines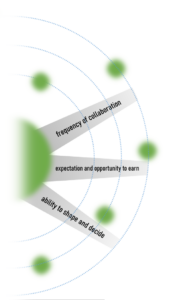 what they 'want' from an engagement in PlanAdapt and what they are ready to 'give'. From an organisational development point of view, this highly flexible 'structure' explores the experimental space between formal employment and a loose membership in a network (that someone else runs, manages and funds).
In comparison, many actors in the consulting industry treat professionals as 'vehicles' to deliver projects, and trading them (by using CVs) on the market. The request for the  This has created an environment in which
The triangle of pseudo-valuation in the consulting industry …
csdcdsc