Data Ecosystem Mapping (DEM) for "Socially Just and Adaptive Community Spaces in Poor Urban Settlements in India and Colombia" Project
As part of PlanAdapt's collaboration with the Open Data Institute (ODI) and Microsoft, the project team (Antonio Arce Romeo, Deepika Rawat, Nega Emiru Debela) applied ODI's Data Ecosystem Mapping tool.
What is Data Ecosystem Mapping?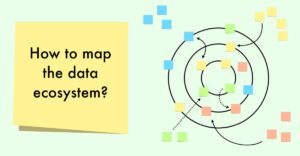 Data Ecosystem Mapping (DEM) is the process of planning, developing and drawing a visual representation (map) of the data assets, locations, and actors within a given 'data ecosystem'. It describes the links between the assets, how data is accessed, used and shared, and helps to highlight points where data value can be realized. Mapping a data ecosystem and understanding relationships between the assets and players within that system can help organizations make better use of data and realize the value of data. In other words, it identifies entry points for value addition in the whole data flow. DEM is a practical advocacy tool which aims to help organizations identify, map and communicate all elements of a data project or activity, including datasets, actors and relationships. A data ecosystem consists of data infrastructure, and the people, communities and organizations that benefit from the value created by it.
DEM is done by planning, developing and drawing a visual representation (map) of the data assets, locations, and actors of a 'data ecosystem' for a given project or organization. DEM involves four key steps:
Mapping the actors including data stewards, intermediaries, contributors and beneficiaries;
Mapping the 'formal' value exchanges including data and services;
Mapping the 'soft' value exchanges such as feedback, insights, knowledge and advice; and
Finding opportunities for future value creation and improvement.
Extensive guidance and resources on how to conduct a DEM exercise are available at the Open Data Institute – DEM for further reading.
The PlanAdapt Network team composed of three fellows have been participating in a Peer-Learning Network (PLN) with thematic focus of Data for Climate Resilience since January 2023. The PLN is jointly organized by Open Data Institute and Microsoft Corporation. The PLN consist of six organizations namely, Women Income Network, Global Partnership for Artificial Intelligence, Gender and Environment Data Alliance, DataKind, South African Cities Network, and PlanAdapt which in one or other way manage data for climate resilience.
Case Study: Socially Just and Adaptive Community Spaces in Poor Urban Settlements in India and Colombia
As part of the peer-learning process, the ad hoc team was engaged in a case study of data ecosystem mapping for one of PlanAdapt's projects titled as " Socially Just and Adaptive Community Spaces in Poor Urban Settlements in India and Colombia". The climate resilience-focused action-oriented research project was funded by Adaptation Research Alliance (ARA) as part of its microgrant scheme for grassroots action research for climate adaptation and resilience building. The project involved the collection, use, analysis and sharing of qualitative and quantitative data, and the generation and sharing of knowledge among various stakeholders in enhancing adaptation using community commons or shared spaces in the informal settlements. The DEM case study identified different actors including the four project consortium members – PlanAdapt Network, INDÉ (Integrated Design), Mahila Housing Trust (MHT), and URBAM Centro de Estudios Urbanos Ambientales.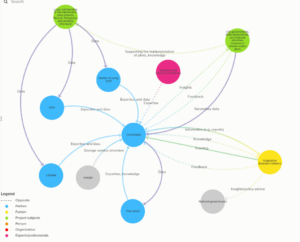 The DEM exercise identified and mapped major stakeholders/actors, multi-directional exchanges or flows of formal values (data and services), and soft values (knowledge, insights and feedback) between different actors including the municipalities, local governments and project target beneficiaries (urban communities in informal settlements). More to that, the team has identified opportunities for future improvement through identifying future soft values and actors to add value to the overall data ecosystem management. The DEM identified that engaging national governments in such projects as stakeholders would help in creating additional soft value flow and quickly mainstreaming pro-urban poor communities' policies which help vulnerable people build resilience against climate-induced risks such as floods at short and long-term time scales. ARA in this regard is well placed to provide policy advice on pro-poor policies and strategies to accelerate the process of resilience building through synthesizing findings and engaging additional actors. Find the DEM results here.
During this exercise, the diverse and adaptable uses of the DEM have become apparent. For instance, it can be employed as a practical tool to build a comprehensive engagement strategy for engaging all stakeholders involved in the project, as well as potential partners in future implementation stages. Furthermore, it can serve as a communication tool for funders to understand the challenges and opportunities associated with collaboration and novel partnerships, and how their support can influence the project. Subsequently, the DEM can be utilized as an assessment tool to identify successes and areas for improvement in collaborative endeavors to enhance climate-resilience efforts.