Helping to Shape the Mindsets of the Next Generation of Women Climate Leaders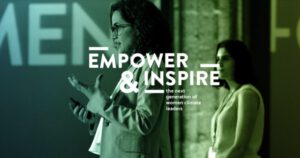 In cities, climate change can manifest in a variety of ways, such as increased heat waves, air pollution, and flooding. Women are disproportionately affected by these issues, as they tend to have less access to resources and decision-making power, which makes them more vulnerable to the impacts of climate change, such as food and water insecurity, increased frequency of natural disasters, and displacement. Especially women of colour, Indigenous women, and low-income women are often underrepresented in leadership positions and decision-making processes and still face barriers, both structural and societal, to access the same opportunities and resources as men (learn more here: IIED).
Women-led initiatives can help ensure that their perspectives and needs are considered in climate-related decision-making, as it is shown that gender diversity leads to better and more equitable outcomes. Further, they can act as role models and inspire more women to get involved in climate action. In urban areas, women-led initiatives can help develop solutions that are tailored to the specific needs and perspectives of women and their families. For example, they can work on initiatives to mitigate urban heat island effects, such as green roofs, trees, and reflective surfaces, that can provide cooling and shading, help clean the air and increase the resilience of communities (learn more here: UNWomen).
C40Cities contributes to the emergence of the next generation of female climate leaders by sharing knowledge and experiences through the Women4Climate programme that combines mentoring, training and networking opportunities for women in cities.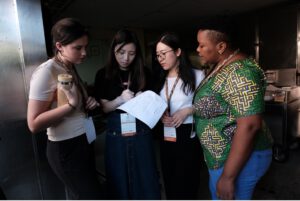 Women4Climate is a joint initiative of C40Cities and the L'Oréal Foundation in which women from C40 cities can develop and implement actions inspired by the "think local, act global" philosophy. This mentorship programme supports cities in engaging with resident women to accelerate women-led local climate projects and solutions that contribute to the city climate priorities and action plans.
The initiative organises regular bespoke remote training sessions to support the development of diverse skills and knowledge of women working in the field of climate action who are part of the programme.
PlanAdapt supports Women4Climate by designing and delivering a regional training session to participants in South Asia (more specifically Mumbai, Chennai and Bengaluru). The training will provide participants with tools to engage stakeholders (civil society organisations, vulnerable communities, and local governments) on climate change adaptation projects. The aim is to equip the mentees in mapping, analysing, engaging and managing relevant stakeholders for their projects to be successful. Collaborative work among the mentees will benefit the collaboration within the ecosystem of women working with climate change adaptation and mitigation in the region.
If you are interested in a Leadership Role in an Emerging Climate Organisation, i.e. PlanAdapt, please find more info here.