Outcomes of COP25 – What Happened in View of Adaptation and Loss & Damage?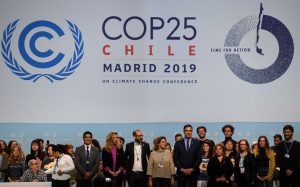 The 25th Conference of the Parties (COP25) to the United Nations Framework Convention on Climate Change (UNFCCC) was held from 2 to 13 December 2019 in Madrid, Spain. Key objectives were agreeing on the modalities that govern carbon markets, and increasing the ambition levels of Nationally Determined Contributions. Overall, during its two weeks of duration, the conference once again highlighted the limitations of a consensus-based regime, which provides ample opportunity to blockers to hold up the entire process.
What were the outcomes with respect to adaptation?
Adaptation was the priority issue for many of the developing country Parties. A number of Parties highlighted aspects related to adaptation in their opening statements of COP25, e.g. the importance of the adaptation fund (Australia for the umbrella group), a balance between adaptation and mitigation (Egypt for the African Group), or that Article 6 should provide resources for adaptation through share of proceeds (Bhutan for the LDCs) or an Art. 6 "adaptation credit" (Papua New Guinea for the Coalition for Rainforest Nations). Finally, Venezuela emphasized its general priority of adaptation over mitigation. Compared to the emphasis placed, the discussion was controversial with few results.
In Madrid, the report of the Adaptation Committee was discussed in joint SBI/SBSTA informal consultations. At COP24 in Katowice, the Adaptation Committee had been requested to consider gaps and needs and how to address them. Discussions were from the beginning controversial focusing on the prominence given to the private sector. Developing countries underscored that adaptation finance should be public funds from developed countries. In addition, issues regarding the membership of the Adaptation Fund board were controversially discussed.
… what about loss & damage?
Loss and damage featured even more prominently in the discussions, partly because the COP coincided with the review of the Warsaw International Mechanism (WIM) for loss and damage associated with climate change impacts.
Overall the decision text, as agreed at COP25, reflects many requests made by countries in the G77 and China, which maintained a unified position on loss and damage throughout the Madrid session. However, the road to reaching consensus on a final document was long and far from smooth. From the outset, there were clear differences in developed and developing countries' vision of the future of the WIM.
One priority for developing countries was to improve vulnerable countries' access to new and additional finance for dealing with climate change induced loss and damage. This key ask of developing countries was not only discussed in the context of the review of the WIM but also subject of discussions on climate finance taking place in other negotiation fora. This position of developing countries, that was supported by a large number of non-governmental organisations, encountered fierce opposition of some developed nations. In particular,Australia and the US continued to block and undermine the needs of developing countries and did not respond to the specific proposals for a new loss and damage fund. Focus was instead placed on creating a task force or expert group to concentrate on knowledge sharing and dialogue on loss, damage and risk assessment, rather than providing much-needed funding and compensation.
"It is marginally better than before but still far less than it should have been. There is much more reference to available finance than generating new finance. It hardly makes sense as available finance is already found inadequate to support existing requirements like mitigation and adaptation" said Harjeet Singh, global lead of climate change in ActionAid and a 'loss and damage' expert.
It is worth noting that the decision text on the WIM review includes provisions on a number of other areas of importance to developing countries, e.g. the role of best available science in informing work on loss and damage; the need to enhance work on slow onset events and non-economic losses; and a recognition that reducing greenhouse gas emissions reduces the risk of loss and damage. It was also agreed that the next review of the WIM would be in 2024 and that reviews would take place every five years thereafter.
For more extensive summaries and anaylses of COP25, please follow these links: 
By European Capacity Building Initiative (ecbi)
By International Institute for Sustainable Development (IISD)