Supporting Early Career Researchers from the Global South to Enhance Research Impact and Collaborate with Climate Knowledge Brokers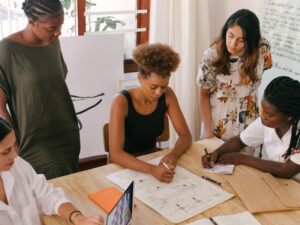 Research as a process to discover and generate new knowledge is a keystone to climate solutions in the 21st century. But little progress is made if the research findings do not make their way into decision-making processes that govern public policy or innovations that make private or public climate solutions more low-carbon and climate-resilient.
PlanAdapt's mission is closely related to the goals of effective, socially-inclusive climate knowledge brokering. We believe that it comprises a discrete set of skills and competencies (learn more). And our team's expertise spans a wide range of knowledge brokering experiences and backgrounds.
In 2023 and 2024, PlanAdapt collaborates with the Association of Commonwealth Universities (ACU), the Researcher Development Academy of the University of Cape Town and five leading universities in climate research in the United Kingdom to provide knowledge broker intelligence and practical guidance as part of the Commonwealth Futures Climate Research Cohort 2023-24 programme. ACU and British Council launched a second round of their Cohort programme, which is part of the British Council's Going Global Partnerships. The Cohort programme is designed to support the development of climate change-focused early career researchers, in relation to research-to-action, with the view to enhancing the contribution of science to national, regional, and international decision-making in the area of climate change mitigation and adaptation. Early career researchers (ECRs), from 10 'Going Global Partnerships' target countries (Bangladesh, Egypt, Ghana, India, Kenya, Malaysia, Nigeria, Pakistan, South Africa, Sri Lanka), will participate in a one-year applied training and development programme.
To facilitate productive engagement with policy and practice stakeholders during the scoping, co-creation, and delivery of research projects through the programme, PlanAdapt's knowledge brokers with expertise in the climate action space will connect and build relationships with relevant stakeholders and guide the research co-creation processes (using frameworks such as the ones by IDRC 2021 or Beier et al. 2017) throughout the stages of the programme by contributing knowledge of and experience in:
designing stakeholder engagement processes;
scoping and co-creation of action-focused research projects including research for impact principles;
enhancing the use of findings by enhanced data visualization (e.g. maps, infographics);
'translation' into user language/ jargon, reduction of complexity;
designing policy influencing processes, including stakeholder and policy landscape mapping and political economy and power analysis;
designing and implementing communications, outreach & awareness activities and products;
learning, attitude and behavioral change activities and methodologies, capability strengthening & development, collective sense-making; and
monitoring and evaluating knowledge brokering activities and processes.