People, Nature and Climate Change – FEBA launches new Online Survey on Urban Ecosystem-based Adaptation!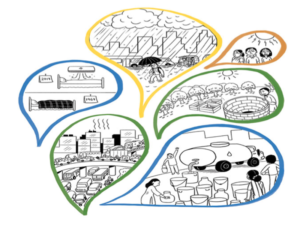 Ecosystem services (supporting, provisioning, regulating and cultural) are central to human existence, yet they are increasingly threatened by human actions in the water, on the ground and in the air. Climate change now increases the pressures on these cornerstones of life, especially in densely populated human settlements where the natural environment is non-existent or highly degraded: cities. So how can we protect, restore and fund nature in cities while responding to the negative impacts of climate change?  
Urban Ecosystem-based Adaptation (EbA) is a fundamental step in the right direction.  
Ecosystem-based adaptation, or EbA, as defined by the Convention on Biological Diversity (2009) is "the use of biodiversity and ecosystem services as part of an overall adaptation strategy to help people to adapt to the adverse effects of climate change." Protecting and restoring biodiversity and ecosystems in urban contexts, whilst altruistic in itself, is also a critical part of sustainable development and can, and must, play a central role in climate change adaptation strategies and plans. With over 54 percent of the world's population living in urban areas and expected to increase to 66 per cent by 2050, adaptation in urban areas must be a top societal priority. 
So how do we "do" Urban EbA? 
While information on EbA is available through many online portals, there are very limited case studies or examples of implementation of urban EbA measures. For example, there is the UNEP Asia-Pacific urban EbA project that is certainly a promising project, however very limited information on the actual EbA measures for others to learn from. Similarly, the Ecosystem-based Adaptation Through South-South Cooperation's "Urban EbA Thematic Library" holds excellent potential as a resource but currently lacks content. Even weAdapt or the Panorama portal do not have much information when you get down to the nitty-gritty of Urban EbA measures. This lack of available information is more apparent when looking for examples from the Global South.  
To help fill this information gap, PlanAdapt and IUCN convened a new Friend's of Ecosystem-based Adaptation (FEBA) Urban EbA Working Group. The Working Group brings together researchers and practitioners from the fields of urban development, EbA and Green-Grey Infrastructure to identify and compile practical examples of urban EbA planning and implementation in the Global South. This study will contribute to the knowledge base of the growing area – in theory and practice – of Urban EbA. 
Currently, the Working Group has developed an online survey (also available in Word version in case of limited connectivity) to capture diverse information on Urban EbA practices. The survey dedicates three short sections to focus on 
general project information,

urban 

EbA

 measures or components and 

aspects of climate justice. 
The information gathered through the survey and follow-up interviews will provide the base for a joint FEBA technical paper.  
Do you have your own Urban EbA related project to share or know of one? If so, please complete the survey here. Successes and failures welcomed!