A Critical Learning Journey from Theory to Real-World Solutions for Climate Change Adaptation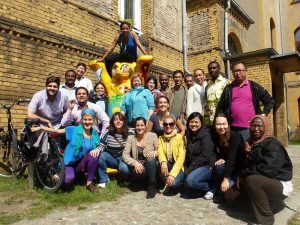 In August 2019, PlanAdapt, in collaboration with Humboldt University Berlin, offers a two-week training course focusing on the latest knowledge in adaptation science, practice and policy. The course aims to develop professional skills to manage, coordinate, and design effective adaptation initiatives in the policy and practice sphere. It aims at more than just knowledge transfer, but also to enhance abilities in critical thinking and problem-solving. Furthermore, participants will see improvements in their skills in creative thinking, collaborative, and interpersonal skills as a result of the diverse learning methods.
By mixing a large variety of learning tools and methods (classroom, on-site visits, discussions with experts, collaborative learning, collective sense-making, theory U-based approaches etc.), the participants will learn to apply specific methods and concepts, critically reflect and exchange views with experts, practitioners and fellow participants. Real-life examples from all over the world will help to understand the essence of climate adaptation initiatives, in particular investigating key aspects such as:
Framing adaptation for good decision-making
Politics, economics and institutions of climate change adaptation
Basics of the underlying science of climate change impacts and risks
Climate risk and vulnerability assessment
Adaptive governance, stakeholder engagement, climate risk management, managing uncertainty
Good practices in real-life settings in sectors such as agriculture, natural resource management, rural infrastructure, food security, cities, and health settings.
The content is designed for an intermediate level of learners that have practical exposure to issues of climate change adaptation and some years of professional background, ideally in the planning and/ or implementation sphere, and an academic background in at least one of the following disciplines: agronomy, economics, environmental management, geography, ecology, political sciences or similar areas.