The PlanAdapt Marketplace – A Format to Collectively Pursue Work Opportunities and Develop Ideas and Concepts
Do you seek ways to increase the impact of your professional efforts? Are you keen on working with exciting colleagues from other parts of the world in transdisciplinary working groups? Do you feel limited as an individual independent consultant, researcher or advisor, maybe even lonely or isolated sometimes? Are you interested and knowledgeable (i.e. a few years of professional experience) in the areas of climate change adaptation, climate risk management, nature-based solutions, new economics or climate justice?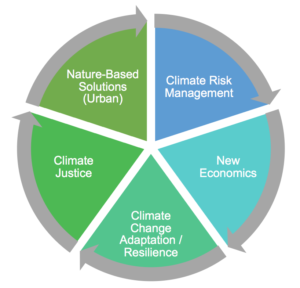 If yes, our Marketplace may be a solution for you. We offer you:
an enhanced chance to generate an income in 'your' field of work;
the opportunity to benefit from administrative, management and IT support by the PlanAdapt Coordination Hub;
the opportunity to widen your scope in terms of income opportunities (i.e. access to a larger number of opportunities) by working in a transdisciplinary group;
the chance to contribute to societal goals and public goods as an outcome of your professional efforts;
the ability to  link your conceptual and methodological ideas to PlanAdapt's institutional fundraising efforts  with like-minded philanthropists organisations); and
a better and a more transparent 'deal' in relation to bid and proposal development as compared to commercially oriented 'body shop' consulting companies.
The PlanAdapt Marketplace is offered to colleagues that are not in full-time job arrangements and are keen to try out this innovative way to collaborate with exciting colleagues from a broad range of disciplines and cultural backgrounds.
What does the PlanAdapt Coordination Hub do to support you as a PlanAdapt Marketplace Fellow:
We provide the PlanAdapt platform as an administrative and legal framework to apply for funding;
We prepare and service regular weekly Marketplace meetings of the active 15 to 20 PA fellows, i.e. on a continuous basis, we manage and maintain the Marketplace Opportunity Database (MOD) and provide IT and comms systems;
We support the smooth collaboration of Ad-Hoc Working Groups, including support calls with WG leads;
We offer to link the outcomes of concept development-focused Ad-Hoc WGs to PlanAdapt's institutional fundraising efforts;
We offer access to PlanAdapt's knowledge systems (including a publication database with many hundreds selected recent publications on relevant topics).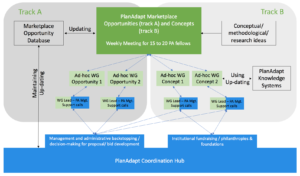 How does the Marketplace work in detail and how would you be involved:
You express your interest in actively engaging for an agreed period of time (a minimum of 2 months is recommended).
You contribute to the updates of the Marketplace Opportunity Database by sharing (track A) promising funding opportunities (tenders, calls for proposals etc.) and (track B) initial ideas for innovative concepts, approaches or methodologies in the thematic areas of interest (see also our vision, our expertise and methods and our blogs)
You screen the Marketplace Opportunity Database in view of (track A) a funding opportunity that attracts your interest and/or (track B) prepare a pitch for a research idea, a concept, an approach or a methodology to be advanced.
You have the opportunity to prepare a 5 to 10 minutes pitch in advance of the weekly Marketplace meeting and present it to other Fellows during the meeting in view of (track A) promising funding opportunities (tenders, calls for proposals etc.) and/ or (track B) initial ideas for innovative concepts, approaches or methodologies in a specific thematic area of interest.
Subsequently, you can form and join ad-hoc international, transdisciplinary virtual working groups to (track A) prepare a bid or a proposal together with 1 to 3 other colleagues or (track B) develop a concept note, a publication or similar outputs to advance an idea, a concept or a methodology in small ad-hoc working groups
If the respective PlanAdapt proposal, bid or concept note receives funding, you will be hired as project staff or freelance consultant, as you prefer, to implement the proposed activities.